Prevent Fraud.
Maximize Revenue
We provide outstanding solutions to our clients addressing fraud, forensics, audit, compliance, IT and security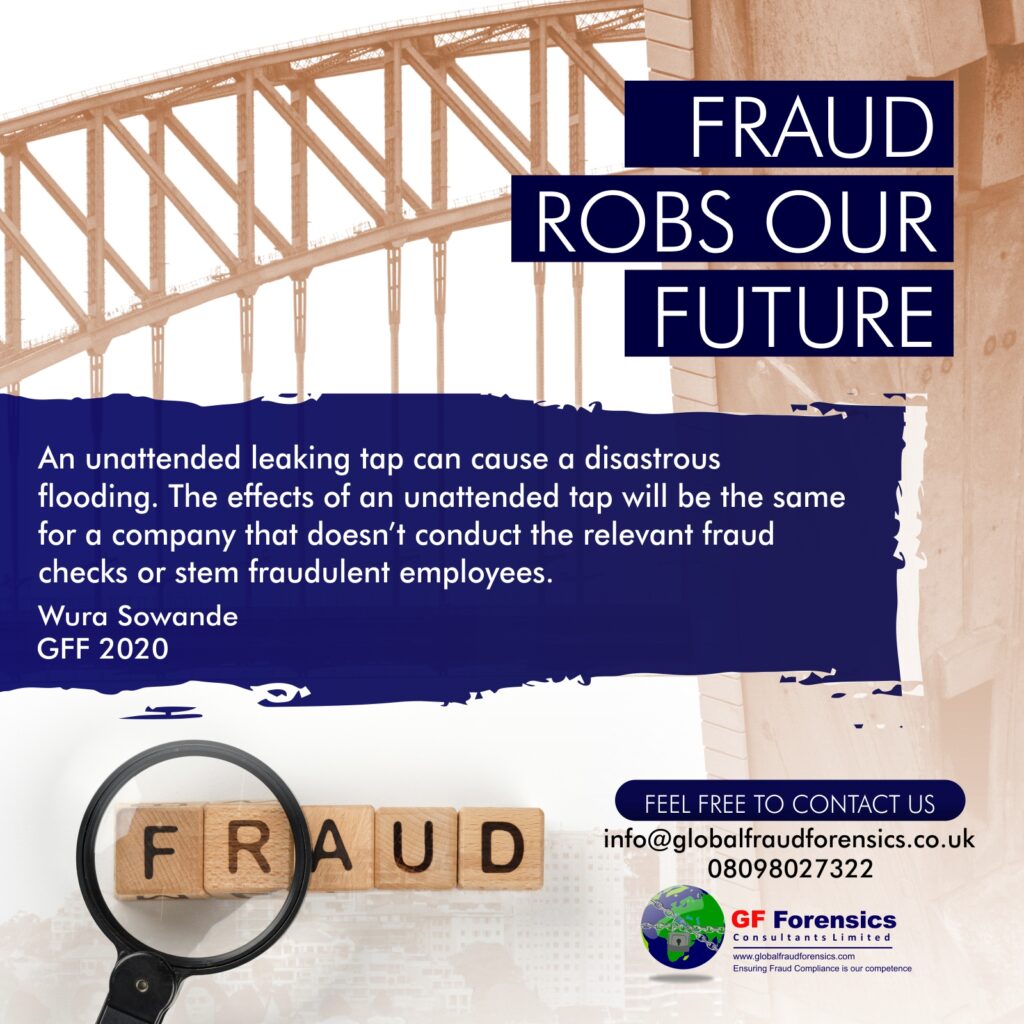 We Deliver Results To Meet Our Client's Specific Needs
GF-Forensics was pioneered by fraud and forensics consultants with over twenty years of experience in the telecoms and audit industry. We deliver key telecoms fraud solutions in the areas of legal verifications and compliance.
We leverage warm community relationships and work hard to verify the information requirements of our clients within the required timelines from employee-related information to business assets.
As a foundational part of our verification and compliance expertise, our fraud professionals study the nuances of the client's business model, information systems, and the legal and political environment. From evaluation to timely approvals, to fraud innovative solutions, every fraud trigger identified is meticulously verified.
---
"Fraud may start with insignificant drops but left unchecked can destroy the company's goodwill, profits, reputation and livelihood"
Ade Banjoko – Principal Fraud Consultant
Our Training Technical Partners

We are partners with Focus Training, UK's leading provider of state-of-the-art fraud, investigation and analysis training and solutions. Some of the packages include:
Surveillance Techniques
Fraud Investigation Skills
Complex Investigation Management
Certificate in Fraud Risk Assessment
Telecommunications Fraud Analysis
We offer online real-time courses for private and public sector officials as well as integrated one-day courses. All courses are facilitated by world-class industry practitioners.
Clients who enrol for these courses through us are eligible for training fee discounts. View the full list of courses and contact us today to register or enrol for your selected course.
Our Address
The HORD Ltd (Logamon office), inside Orchid Hotels premises, Dreamway Africana way, Off Lekki-Epe Expressway 2nd Toll Gate. Lekki, Lagos
Our UK Address:
58 Cuthbert Gardens
SE25, 6SS
Call Us
+234-809-802-7322
+44-752-778-7195
Email Us
info[at]globalfraudforensics.com
Subscribe To Our Newsletter
Sign up to our newsletter for the latest updates fraud and security advisory

Global Fraud Forensics provides professional fraud consulting, compliance, and revenue assurance services to businesses across several industries.
Our Services
Fraud Consulting Service and Background Checks
Fraud & Security Training
Fraud Investigations
Forensic Solutions
Fraud Reporting
Fraud Management and Revenue Assurance Solutions